Casa Bos Flamingo Villa 14P Wellness with Pool and Jacuzzi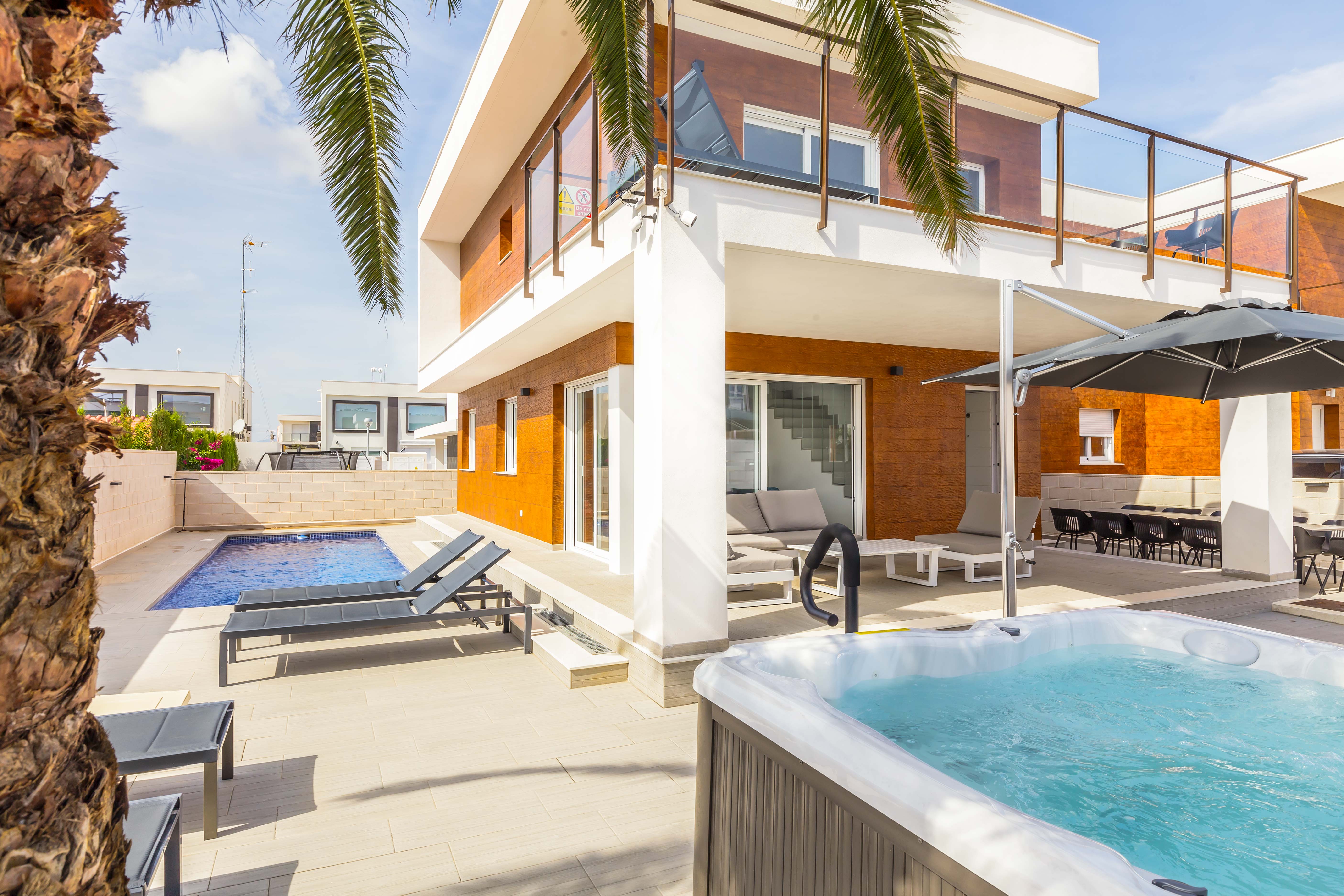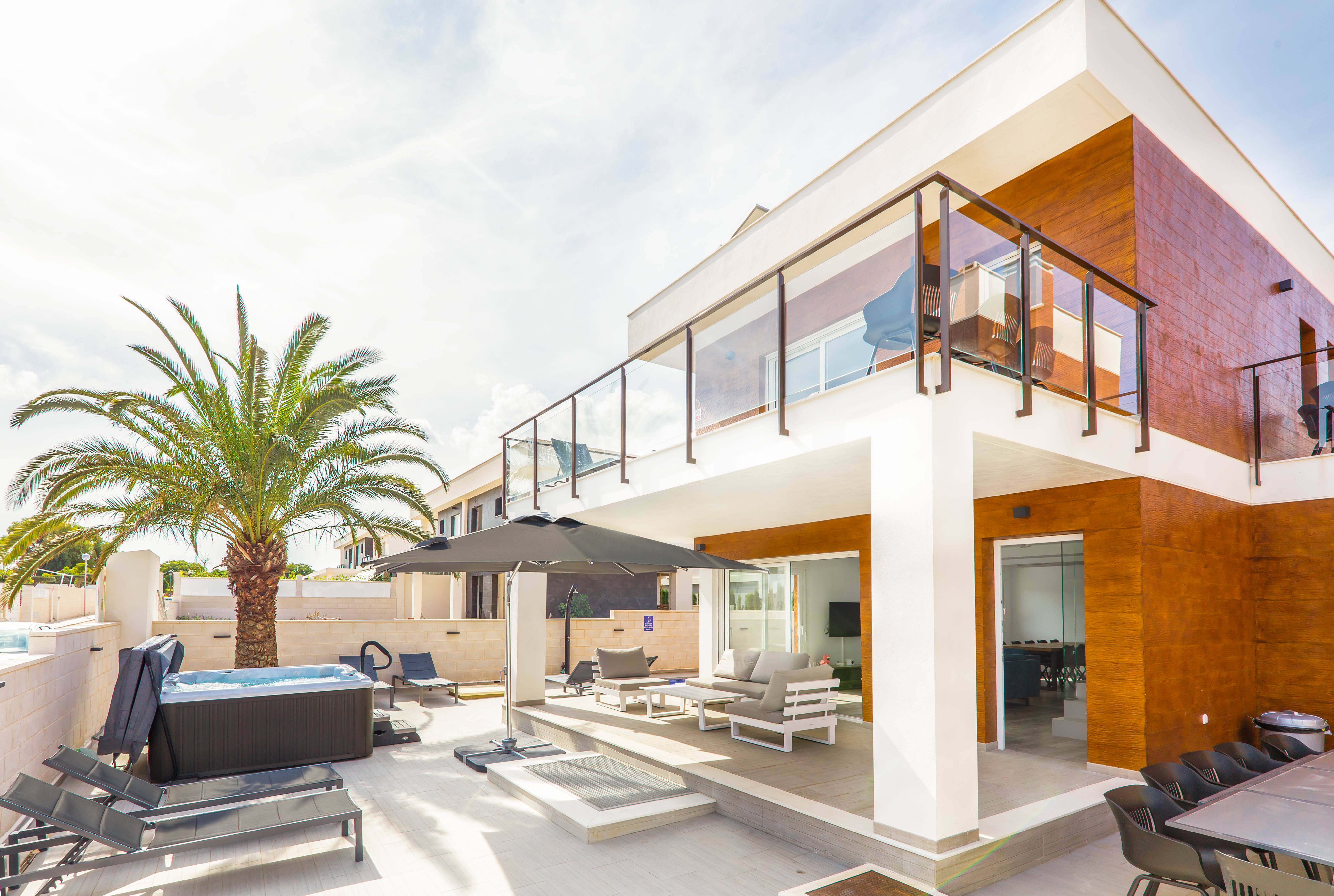 Take a look inside . You can walk around Casa Bos Flamingo by simply clicking the 360 Virtual Reality Tour.
" Great customer care Is at the heart of what we do.
We believe If you take care of people, people will take care of you"

ABOUT CASA BOS VILLAS AN IDYLLIC SPANISH RESORT
Finding a holiday home in Gran Alacant that has the Wow factor and is perfectly located is key to enhancing your wellness and making your holiday an unforgettable experience.
No need to look any further because Casa Bos Villas ticks all four of those boxes!
Casa Flamingo are all located at the epi-centre of Gran Alacant. You will find absolutely everything you need within a short walking distance: Carabassi Beach a long stretch of golden sandy beach, a Wildlife Park, Bars, Restaurants & Shopping Centre.
House Amenities:
The Casa Bos Villas are all fully equipped and decorated to a very high standard, Rene Bos, the owner´s attention to detail and in house design means all of his guests are very well catered for from start to finish. As well as many fine attributes, each Villa boasts Palm trees, Barbecue + ample dining and their very own private swimming pool.
Alicante Airport:
Alicante Airport to Casa Bos Villas takes only 13 minutes by car (9km) making your journey from the airport to your holiday home swift and pain free.
Shopping Centre Bars and Restaurants:
Only a mere 450m from all three properties (literally a 5 minute walk) The Shopping centre houses over 15 Bars and restaurants, a bike & car rental service, a pharmacy and three Major Supermarkets, including lidl : http://ccgranalacant.com/directorio/ Climate Gran Alacant:
Climate Gran Alacant: Throughout most of the year here in Gran Alacant, you will enjoy consistently warm Mediterranean sunshine. From March to May is mild and sunny & June till mid-September it hot and sunny. Although July and August can be real scorchers there is always a cool sea breeze because of GA`s proximity to the coastline.
Sky walk and Lighthouse ( El mirador del Faro)

This iconic bridge is approx. 100m long and allows you to see breath taking panoramic views of 130km of coastline plus the island of Tabarca and spectacular for sunsets There are 2 points of access to El Mirador. From any one of Casa Bos Villas it's a 5.4 km hike up and along through the sierra toward the "Light House"
Santa Pola Salt Flats / Pink Flamingos / Island of Tabarca
Tabarca: Gran Alacant is 6 km away from the larger and busier coastal town of Santa Pola.It is from there that you catch the boat taxi or a glass bottom ferry to take you over to the island of Tabarca (duration 15 minutes one way) The "Isla de la Tabarca" is a national Marine Reserve that boasts crystal clear waters and where the fauna and flora are perfect for diving and snorkelling. If diving and snorkelling is not your thing, why not pop over for lunch for one of their delicious paella´s.

Salt Flats & Flamingos: A little further along from Santa Pola town you can visit the Salt lakes and pink flamingos. Sunset watching is also an incredible experience from this point.
Natural Park 2km from Casa Bos Villas is El Clot de Galvany a protected nature reserve high in biodiversity and home to many species of birds, flora and a lagoon.

Carabassi Beach.
Only 2.5 kilometres from Casas Bos villas you´ll find yourself bathing in the wonderful clear blue water of Carabassi beach. A wide stretch of combed golden sand, pine forests and sand dunes, this wild natural beach is gorgeous. During the summery months the beach is host to a selection of chiringuitos dotted around where a meal, ice cold beer and good vibes can be enjoyed.

Carabassi beach is located at east side of the natural park Clot de Galvany.
Fresh Fruit & Vegetable Market . Every Thursday from 8am till 2pm located at the top of the Hill on Av. D'Escandinàvia